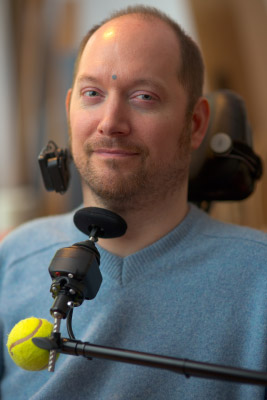 About Giesbert and LaesieWorks
So yes; I have a very high spinal cord injury, and it is terrible. A traffic accident in 1995, leaving me almost completely paralyzed; I can only move my head. As such, I made this website myself with headmovements only! Thanks to the support of many friends, family, and care, I survived the critical first period after the accident, and a year after the accident they organized a huge benefit concert for me! This gave me access to a good quality head controlled computer. While still in the rehabilicenter, I started my LaesieWorks website, in 1997. In the Dutch language, somebody with a SCI is called to have a dwarsleasie, hence the name LaesieWorks (bit far fetched but unique as well)

Click here for more about Giesbert

LaesieWorks news
January 2020
Busy with a total remake of my website, and adding a new part: Super-Wheelchair.
I am starting a company to design and build a super functional wheelchair, for myself and others, worldwide. Mission impossible! So at the same time, I need to proof that given the right care and tools, a person who can physically do next to nothing, can still be an active part of society.

Do I search new people for my care?
Probably not right now, but maybe suddenly tomorrow! So please do get in contact if you are interested.