Links to sci research and sites
---
Here are links to places where people are busy searching for ways to repair a spinal cord injury. This list is not complete. If you know of other important addresses, or see something that needs to be corrected on this page; please let me know.

HUMAN TRAILS
Geron Corporation
News of 2009-01-23. (3 days after Obama's Inauguration)
Geron Receives FDA Clearance to Begin World's First Human Clinical Trial of Embryonic Stem Cell-Based Therapy

Biotech company Geron says it plans to start this summer (2009) the world's first study of a treatment based on human embryonic stem cells, a long-awaited project aimed at spinal cord injury. The company gained federal permission to inject eight to 10 patients with cells derived from embryonic cells. The patients will be paraplegics, who can use their arms but can't walk. They will receive a single injection within two weeks of their injury. The study will follow each patient for at least a year. The study is aimed at testing the safety of the procedure, but doctors will also look for signs of improvement like return of sensation or movement in the legs. Animal studies suggest that once injected, the cells will mature and repair what is essentially a lack of insulation around damaged nerves, and also pump out substances that nerves need to function and grow. The work will be done in four to seven medical centers around the country.
Geron has spent at least $100 million on human embryonic stem cell research. Founded in 1992, it does not have any therapies on the market. However, the company is considered the world's leading embryonic stem cell developer thanks to its claims on several key stem cell technologies. Geron helped finance researchers at the University of Wisconsin who first isolated human embryonic stem cells in 1998. The company has retained exclusive rights on several of those cell types.

Geron Corporation
230 Constitution Drive
Menlo Park, CA 94025 USA
Tel: 650-473-7700
Email: info@geron.com
Website: www.geron.com

---
ANIMAL TRAILS
November 2012
Jasper the dachshund is walking again!
Nose cell transplants allow paralyzed dogs to walk again.

Scientists from the University of Cambridge's Veterinary School, working with colleagues from the UK Medical Research Council's Regenerative Medicine Centre, have got disabled dogs walking again. More specifically, they've used the dogs' own cells to repair their spinal cord injuries, and at least partially restored the functionality of their back legs. The researchers believe that the process shows promise for use on physically challenged humans.

"Our findings are extremely exciting because they show for the first time that transplanting these types of cell into a severely damaged spinal cord can bring about significant improvement," said the university's Prof. Robin Franklin, co-author of the study. "We're confident that the technique might be able to restore at least a small amount of movement in human patients with spinal cord injuries but that's a long way from saying they might be able to regain all lost function. It's more likely that this procedure might one day be used as part of a combination of treatments, alongside drug and physical therapies, for example."

His owner May Hay: "Before the treatment we used to have to wheel Jasper round on a trolley because his back legs were useless. Now he whizzes around the house and garden and is able to keep up with the other dogs. It's wonderful."

Sources: YouTube, Gizmag, BBC, University of Cambridge
The study, funded by the Medical Research Council, published in the neurology journal Brain (Volume 135 Issue 11 November 2012, Brain 2012: 135; 3227–3237)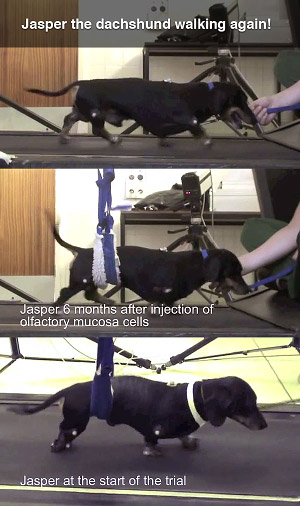 G-Lab Team
Project Rewalk - The webdocumentary
Rats with spinal cord injuries and severe paralysis are now walking (and running) thanks to researchers at EPFL. Published in the June 1, 2012 issue of Science, the results show that a severed section of the spinal cord can make a comeback when its own innate intelligence and regenerative capacity—what lead author Grégoire Courtine of EPFL calls the "spinal brain"—is awakened. The study, begun five years ago at the University of Zurich, points to a profound change in our understanding of the central nervous system. It is yet unclear if similar rehabilitation techniques could work for humans, but the observed nerve growth hints at new methods for treating paralysis.
Center for Neuroprosthetic and Brain Mind Institute of the Life Science School at the Swiss Federal Institute of Technology Lausanne (EPFL).


---

CUSAT
(Cochin University of Science & Technology)
Spinal Cord Injury research.
In the medical collegew hospital, Kottayam Kerala, India Dr. P.S. John (head Orthopaedics) and Dr. C.S. Poulose (head center for neurosciences), were successful in treating rats whose spinal cords were broken. Using stem cell therapy. After the treatment the full function of the legs were restored. The rats are able to run around.

CUSAT
Cochin-22, Kerala, India
Email: cspaulose@cusat.ac.in
Website: www.cusat.ac.in

Spinal Cord Injury websites
stepnow.org
Stand Together to End Paralysis now!
A site set up by individuals around the globe whose lives have been affected by spinal cord injury. The purpose of the site is to explore and develop global plans to aid in the fight for a cure for paralysis.

Spinal Cord Injury Awareness Center
Our mission is to be the most reliable, timely and complete resource on the internet for brain injury and spinal cord injury survivors. Our hope is that this site will become relied upon as a trustworthy resource for the community and for those who are searching for information.

Spinalstips
Tips and tricks from people with spinal cord injuries (SCI).
We now show 1306 tips from 99 people with spinal cord injuries for assistive devices, adaptations and individually designed solutions.


---
Nederlandse Dwarslaesie Sites

SpinalNet.nl en SpinalNetExtra.nl
spinalnet.nl. voor (medische) informatie over dwarslaesie. SpinalNetExtra is het actieve gedeelte van SpinalNet: maak je profiel aan, stuur berichten, lees interviews en discussieer op het forum.

Dwarslaesie Organisatie Nederland
De Dwarslaesie Organisatie Nederland beschikt over een landelijk netwerk van mensen waarmee je van gedachten kunt wisselen. Op landelijk en regionaal niveau worden voor de aangeslotenen en hun naasten informatiebijeenkomsten georganiseerd.

Dwarsleet
Dwarslaesie Website, voor en door dwarslaesers

Dwarsleasie Fonds
Het is onze missie om fondsen te werven voor het bevorderen en uitvoeren van wetenschappelijk onderzoek naar het ontstaan en behandelen van dwarslaesies. Er zijn naar schatting zo'n 12.500 mensen met een dwarslaesie in Nederland. Jaarlijks komen er zo'n 400 patiënten bij. Het Dwarslaesie Fonds werkt nauw samen met de medische specialisten, onderzoekers en patiënten om wetenschappelijk onderzoek te ondersteunen en uit te voeren naar dwarslaesies in het algemeen en genezing ervan in het bijzonder.

---